Mama Ngina Kenyattta Children's Home
Nairobi, Kenya
Currently our efforts are focused on fundraising and programmatic development of the Mama Ngina Kenyatta Children?s Home in Nairobi, Kenya. Mama Ngina provides institutional care and outreach services for approximately 180 children ranging in age from 0 to young adult.
Download a Detailed Report on the Mama Ngina Orphanage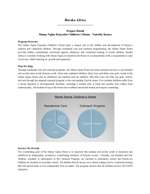 The founders have an established relationship with Mama Ngina and were inspired to action following their visit in May 2007. The orphanage houses an average of 75 children and 20 babies. Space in the orphanage is limited and resources are scarce. The children depend largely on the generosity of private donors, a small staff, and volunteer care givers to meet the basic needs, such as food, water, clothes, bills, and educational supplies. There is a school on the premises that is leased to a private organization to run, which provides a small revenue stream and is a step toward sustainability. This project was privately initiated through one of the founding Board member?s family members.
The relationship of trust and communication with Mama Ngina, their desire to grow, and their commitment to sustainability has made them a perfect pilot project for Baraka Africa. Our tangible successes with Mama Ngina will translate into Baraka Africa?s success throughout the region.
Vocational training at Mama Ngina's focuses on the following areas:
Basic computer skills using donated computers
Technical skills including: tailoring, dress-making, carpentry, masonry, mechanics, electronics, computer training, household skills and beauty.
Providing job placement support for high performing students
Partnerships with local colleges, universities and vocational facilities enable continued studies past secondary school
Financial support to help children aging out of the home to start small businesses.
Community Outreach & Empowerment: Mama Ngina manages a Family Economic Empowerment program in an effort to economically empower the most vulnerable families to improve their status of living and ability to care for their children. The project specifically targets parents/guardians of children in need of special care and protection.
Continued support in the form of food, clothing & nurturing and self reliance
Social worker monitors each case and performs site visits to the place of work and home to assess adjustment
Slum community environment is not conducive to child development, however outreach efforts are resulting in families becoming more empowered to support their own children
Families involved in the outreach program relocate and it is difficult to provide consistent care